Pumpkin Carving
Over the past week, every time I welcome the children in the morning, at least one is proudly hoisting a little pumpkin—a gift to our classroom. I ask families to participate in this fun Autumn ritual, and specify that the bring a pumpkin no larger than their child's head (because that's cute, and because it means they're faster to carve.) Slowly every available surface gets a pumpkin: tables, windowsills, my desk, the table. Yesterday, I began carving.
Carving a pumpkin is one of the great joys in life, in my opinion. To children, it is nothing short of magic. All you need is a pumpkin (though any squash will do if you want to get creative), a pocket knife, a soup spoon, a tolerance for pumpkin-covered hands and acceptance of imperfection. (see this week's Recommended Reading.) If you want to get thematic, Tasha Tudor's Pumpkin Moonshine is a sweetly illustrated classic that is fun to break out around pumpkin carving time.
I sit down on the ground (for pumpkin carving is best done outside) and cut off the top. Opening the pumpkin and scooping out the seeds is always terribly exciting for children, and I let them stick their hands into the goop if they're interested. Sorting through the pumpkin gets to get out the seeds can is super fun for (many) children, and will help develop their fine motor skills to boot. I try to save as many seeds as possible to toast later! One it's all scooped out (this is where the soup spoon comes in handy), I begin to carve. Sometimes a happy face, sometimes a moon and stars, sometimes who knows. Never anything scary or complicated. Never anything perfect. In pops a candle and there you go—a shining gourd friend to light your path. It's a simple, achievable creative task, with impermanent and fun results.
A few tips:
When making stars, cut them just like you'd draw a five pointed star—it's easier to get the points to be the right size and angle.

Watch the angle of your knife, and aim to make the shape/hole bigger on the inside of the pumpkin than the outside. More light will get through this way.

If you plan on keeping your jack-o-lanterns inside, try putting them in a cool place like the fridge at night or whenever possible—it will extend their life significantly.

Obviously exercise caution when using a knife around children (and in general). Use proper knife safety protocol yourself so they have a good model, and teach them to give you some space when you're using a knife.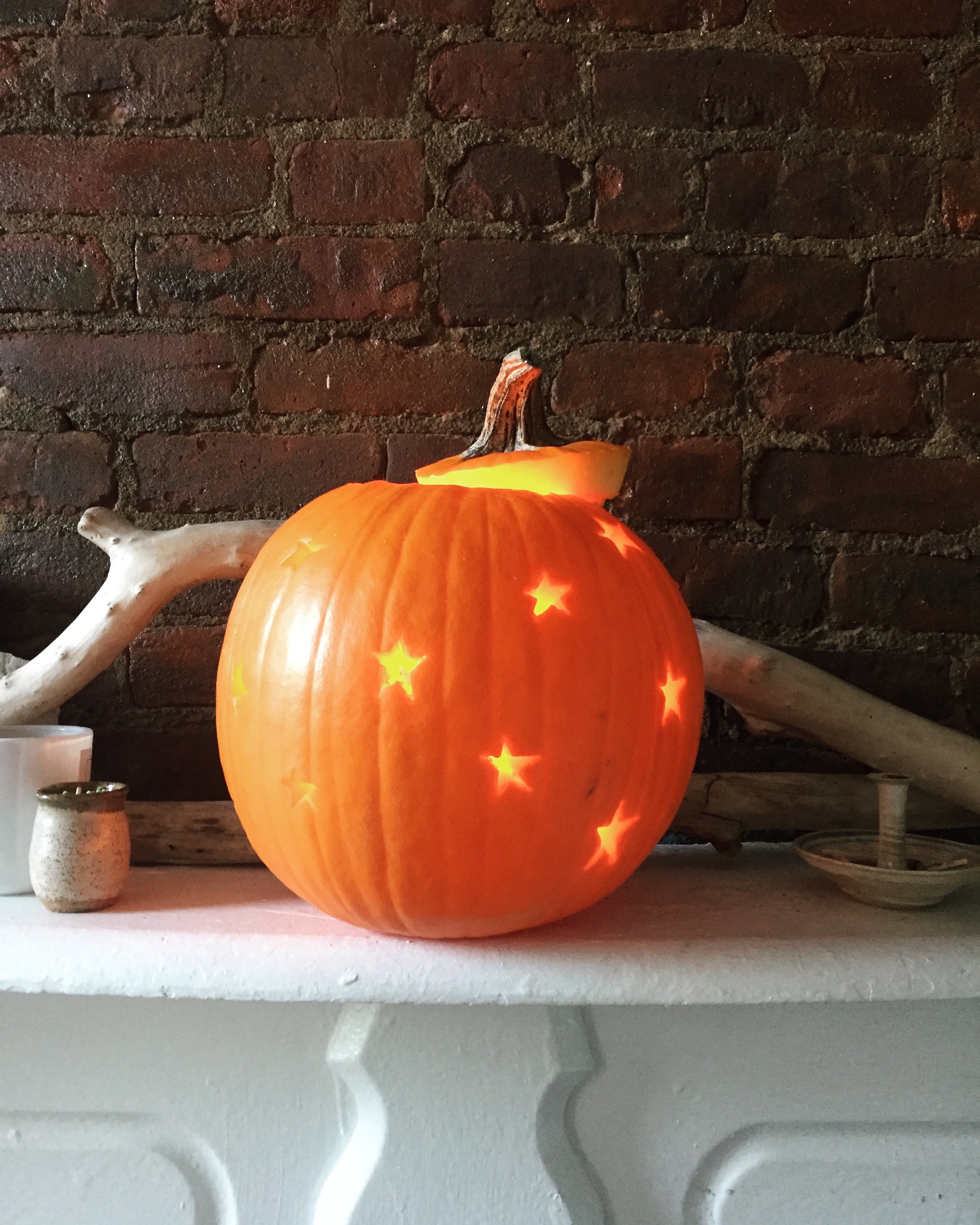 Toasted pumpkin seeds un-recipe:
(Try to buy an organic pumpkin—an heirloom variety is even better if possible. The seeds will be better. So will the planet and farmers and you.)
Save the seeds from a few pumpkins, depending on their size, until you have enough to lightly cover the bottom of your baking tray.
Rinse them and let them dry— a salad spinner will speed this up and is a good way for the children to be involved.
Once dry, toss them on a baking tray and give them a light coating of olive or avocado oil, a sprinkle of salt, and a dash of whatever spices you want to try and have on hand. I like to use a "curry" spice blend, but try anything!
Toast in the oven at 350 until they turn golden brown and yummy smelling, taking them out giving them a toss every so often.